06 Oct

Featured Educator: Lisa Gehring

October 6, 2016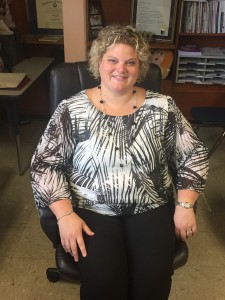 Name: Lisa Gehring
Position: Program Specialist, Office of Special Education
School/District: Portsmouth Public Schools
# of years in the profession: 14 years
Length of Time Using Accelify: 3 years
"Using Accelify's billing system, we have been able to increase our overall reimbursement and prioritize our goals using the data available to us.
We can now basically ask any question and obtain a report that we can use to make staffing or workload decisions based on data."
As a special education administrator who has been advocating for the rights of people with disabilities since she was in high school, Lisa Gehring knows that every decision she makes—from how she spends her afternoon to the vendors she chooses to invest in—makes a difference in the lives of the children with disabilities who are in the classrooms at Portsmouth Public Schools. She understands that every dollar spent by the special education program should be an investment in the district's children with disabilities and has seen first hand how, with the right technology solutions in place, Portsmouth has been able to spend less time calculating data and more time serving students.
This month we had a chance to talk to Lisa Gehring about what she has learned over her 14 years in education and how Accelify has improved the quality of Portsmouth Public Schools' special education program.
Q&A with Featured Educator, Lisa Gehring
Accelify: What made you go into special education?
Lisa Gehring (LG): I have always had a special interest and passion for social justice but my specific interest in special education began in high school.  I remember trying to defend other students who were teased simply by being in different classrooms, I volunteered as a Special Olympics buddy, advocated to include more pictures of students with disabilities in our yearbook, and volunteered over the summer at a local camp for adults and children with disabilities.  When deciding on a career, I knew I wanted to work with children who needed a voice, but I couldn't decide if I wanted to become a psychologist or a teacher.  When I found out about school psychology as a career, I knew that I had found the right direction for my career.  After serving as a school psychologist for several years, I found my calling to special education so I began to tailor my experiences and schooling towards that interest. 
Accelify: What do you love most about your job as program specialist?
LG: I love that I come to work every day to work with teams to solve problems and build systems that allow students with disabilities to access a quality education.   It's exciting to me to know that every decision we make throughout our day helps children with disabilities in our classrooms.  As exhausting as it can feel at times to implement organizational change, I am rewarded I am grateful to have the opportunity to collaborate with parents, teachers, staff, administrators, and the community.  As my list of responsibilities lengthen and I spend more time on administrative tasks, the bottom line for me is always about how I can use my intellectual gifts to strengthen the quality of our special education program. 
Accelify: What has been your experience working with Accelify?
LG: I began working with Accelify when Medicaid billing was added to my responsibilities and immediately recognized that we needed a new system to track and manage billing for our school district. From the moment we interviewed the company as part of our RFP process to our most recent monthly contact to manage paid and unpaid claims, the Accelify staff have been professional, helpful and friendly.  Most importantly, they have been available and supportive whenever I need them.
Accelify: What advice would you give to others looking to maximize their Medicaid program?
LG: The best advice I have ever received regarding Medicaid billing came from our state Medicaid Coordinator, Amy Edwards.  Amy recommended we purchase dual monitors, to track our services monthly, and to never rely on our vendors alone.  The amount of management and oversight required to maximize billing requires checks and balances.  Like many of us serving as Medicaid Coordinators in our districts, managing Medicaid billing was added to my already full plate as a Program Specialist.  I am fortunate to have an administrative professional who helps implement our Medicaid billing in Portsmouth.  We work together very closely to monitor several databases and systems and we do so using dual monitors, allowing us to have more than one program up on a screen at once.  We monitor our monthly billing to make sure everyone is billing as they should and follow up with those who do not.  Most importantly, we know our data.  Although a vendor can provide a system to track data, the school district is ultimately responsible for the billing in their district.  As our third party biller, Accelify can provide reports and data on almost anything I need, but as the person ultimately responsible  for Medicaid billing for our district, the responsibility falls on me to know and understand that data and to be able to determine when systems break down.   
Accelify: What advice would you give to others looking to implement special education management systems?
LG: As a system administrator for two special education management systems, the best advice I can give in implementing a new system is to put in the time up front to conduct a quality and thorough review of business rules and practices.  I found the review of business practices the most rewarding step in the implementation process because it provided a different perspective of our policies and procedures that we didn't think about in the past.  For example, we took advantage of having individuals from IT on our implementation team because it allowed us to determine if our practices made logical sense or if we were just doing things the way we always did them.  When you have to explain the steps in a special education or billing process to someone with no prior knowledge, it helps your team create more concise business rules.  It's surprising how many exceptions to the rules actually exist and it was interesting to find ways to build flexibility and guidance into our systems while still maintaining regulatory integrity.
Accelify: What is one problem you experienced in your position that Accelify helped you solve?
LG: We turned to Accelify because we needed a way to better manage and track our Medicaid billing while also juggling instruction, programming, and administrative tasks for special education.  We also needed to audit our practices to make sure we were maximizing our reimbursement for cost reporting.
Accelify: What has been your greatest success using Accelify's systems?
LG: Using Accelify's billing system, we have been able to increase our overall reimbursement and prioritize our goals using the data available to us.  We can now basically ask any question and obtain a report that we can use to make staffing or workload decisions based on data.
Accelify:How has Accelify made your job easier or helped you do your
LG: Since Medicaid Coordinator is one of many hats that I wear for our division, the Accelify system allows us to improve our Medicaid management so that we spend less time calculating data and more time serving students.
Accelify: Do you believe the Accelify's systems have a positive impact on students?
LG: Accelify has a positive impact on students because the system allows us to efficiently manage data and billing so that we can spend more time and money providing direct services to our children.
Accelify: How is Accelify different than other vendors/systems you've worked with?
LG: I have worked with at least four national vendors in my role as System Administrator for systems and programs implemented in our division and I can say without hesitation that Accelify has the best customer service of the four.  Someone is readily available to help me any time of day, the staff are professional and friendly, and employees respond quickly to any issues that arise.  Accelify is unique in that every interaction with them feels like the most important interaction, as if courting us as a potential customer instead of an existing one.