29 Nov

Webinar Recap: Transition Planning – How To Avoid the "Black-Hole" Between Graduation and Adulthood

November 29, 2016
Jennifer Kaut, State Autism and Developmental Disorders Specialist for Texas Workforce Solutions, Vocational Rehabilitation Services, discusses best practices for transition planning
Transition planning and implementation of best practices is critical to ensuring successful transition to post-secondary options.  Evidence shows that if transition is not carefully and successfully carried out, young adults can become lost in the "black-hole" between graduation and adulthood, leaving them without independent life skills, embedded maladaptive behaviors, and without the self-determination to leave home.  On November 28th, Jennifer Kaut, the State Autism and Developmental Disorders Specialist for Texas Workforce Solutions, Vocational Rehabilitation Services spoke to a diverse group of special educators, parents, and related service providers about how to design a roadmap for successful transition, new Federal regulations that have shifted Vocational Rehabilitation (VR) services to intervene while students are still in school, and how VR and school districts are partnering to help students gain their first job prior to graduating.
Jennifer described the two key components necessary for successful transition: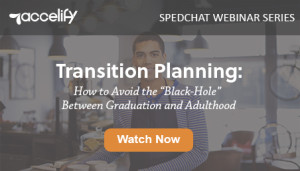 A baseline of the student's strengths and deficits, as determined through a transition assessment; and
A working "road map" that is established based on the results of the assessment(s), and is adjusted year by year as progress is made or new deficits are discovered.
She went on to describe her own experience creating a transition road map for her son Kevin who has autism spectrum disorder. Today, Kevin is a 21-year-old man who has been able to live on his own and learn to drive after receiving intensive supports during his transition to employment. After being successfully employed at Home Depot for 4 years, he most recently obtained a full time position as a mail clerk for the Texas Workforce Commission.
Jennifer concluded the session with a discussion on Vocational Rehabilitation, a federal program available in all states that can be accessed if a student's disability is a barrier to post secondary options.  She described how historically VR services have only been offered to students upon graduating, but that new Federal regulations have shifted VR services to intervene earlier so they can partner with school districts to help students gain employment prior to graduation. This is a very positive shift, considering the research that shows students who obtain their first job before they graduate are 3 times more likely to succeed post graduation.
To learn more, check out the slides below or click here to view the webinar on-demand.