08 Dec

AcceliTRACK Version 3.3.0.1 Is Now Live!

December 8, 2016

We're excited to announce the release of AcceliTRACK Version 3.3.0.1!  Continue below to preview system enhancements included with this version release
Drag and Drop Scheduler Now Defaults to Service Line Duration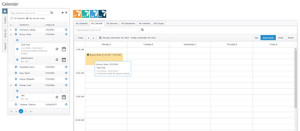 Updates to the Drag and Drop Scheduler make scheduling services in AcceliTRACK easier than ever. Now if a service line includes both a service limit and a minute limit, when it is dragged onto the calendar for scheduling, it will override the district's default duration, and instead default to the appropriate duration for one session. For example, a service line for 3 services monthly/120 minutes monthly, will default to 40 minutes/session.
Calendar Session Details Expanded

You no longer need to click to view expanded details for services or activities scheduled on your Calendar. Simply hover over the session to preview all session details including related student information.
Unassign From Caseload Will Also Unassign From Workload

Keep your caseload and workload in sync. Updates to the My Caseload tab will automatically unassign service lines (open, closed and expired) from your workload when a student is unasigned from your caseload.
For additional information regarding any of these updates, contact your dedicated Account Manager or our AcceliTRACK Product Support Team at helpdesk@accelify.com.