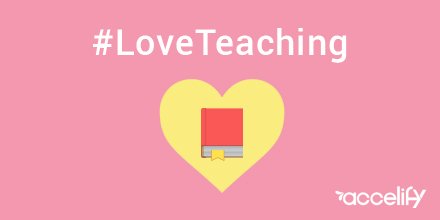 14 Feb

Accelify Launches #LoveTeaching Contest

February 14, 2017

This valentines week we asked our customers to share with us why they #LoveTeaching. See what they had to say below and join the love fest on Twitter or Facebook!

To show our thanks, one lucky teacher or school provider will win a $100 Staples Gift Card on Tuesday, February 21st! 
❤#LoveAccelify💖 Accelify makes my PT doc life easier this yr! Having all my caseload in 1 place vs sev notebooks is a lifesaver!!

— MRB Banks, PT, ATC (@BEACHpt_atc) February 16, 2017
@AccelifyLLC I love middle school because the kids are at the edge of becoming whom they choose to be. So much potential! So full of life!

— Angela Eligio (@angelaeligio) February 15, 2017
@AccelifyLLC i #loveteaching I love being an integral part of growth and development, helping students realize their potential #loveaccelify

— Miss Jillian Gaygan (@PiperSeniorGC) February 17, 2017