02 Mar

New Features Released! Action Items Tab Added to AcceliTRACK Navigation

March 2, 2017



This week we released AcceliTRACK Version 3.5.0.1, and as part of the release, we added a great new feature to the side navigation. 
The Action Items tab provides quick access to critical data requiring further action by simply clicking the link that displays the total count for each type. Action Items include the following: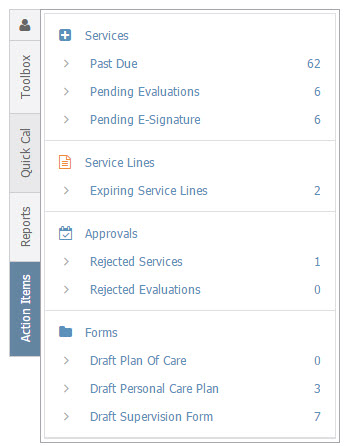 Past Due Services

Pending Evaluations

Pending E-Signature

New Service Lines

Expired Service Lines

Expiring Service Lines

Services Pending Approval

Rejected Services

Draft Plan of Care (VA-only)
Draft Nursing Plan of Care (VA-only)
Draft Personal Care Plan (VA-only)
Draft Supervision Form (VA-only)
Draft Psych Assessment (VA-only))
Draft Diagnostic Interview Examination (VA-only)
Note: Action Items displayed will vary by user/district. 
For additional information regarding updates included with version 3.5.0.1 or complete release notes, contact your dedicated Account Manager or our AcceliTRACK Product Support Team at helpdesk@accelify.com.