Accelify All-Star: Rebecca Mackall
April 21, 2016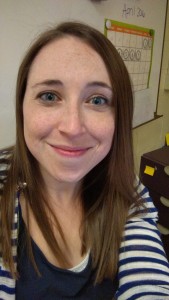 Name: Rebecca Mackall
Position: Speech and Language Pathologist
District: Chesterfield County Public Schools
# of Years Using Accelify: 3 years
"Accelify's electronic documentation has increased my attention to quantifiable student progress."
This month's Accelify All-Star, Rebecca Mackall, has been an SLP for four years, three of which she has been using Accelify's systems. As a fast learner who appreciates technology, Rebecca has lead her district's department of more than 75 SLPs and more than 30 OTs and PTs through what she described as the "monumental hurdle" of changing the way they do their documentation. Her leadership was critical in making the transition process easier on the entire team of providers and in making Accelify a success in Chesterfield County Public Schools. We had a chance to talk to Rebecca about her experience working in special education and about how Accelify's systems have helped make her job easier and more rewarding.
Q&A with Accelify All-Star, Rebecca Mackall
---
ACCELIFY: What made you decide to become a Speech-Language Pathologist?
REBECCA MCKALL (RM): When I was in high school I had the opportunity to meet a young girl before she received a cochlear implant.  I was able to see the amazing change that occurred after she received her cochlear and was able to easily communicate with other girls her age. The change that increased communication had on this girl's confidence was amazing! I initially went into my college education interested in Audiology, but I was drawn to the long term student relationships that are created through weekly and monthly treatment sessions as an SLP.
ACCELIFY: What do you love most about being a Speech-Language Pathologist?
RM: I am forever interested in teaching the basic skills of communication including gesture and joint attention. I love when a child realizes that he and I are thinking and talking about the same thing. I have had the opportunity to work with preschool students with Autism for the past four years. These students can be challenging, but I truly appreciate the opportunity to teach them to interact with other people through communication.
ACCELIFY: Describe a time you felt you were able to have a meaningful impact on a child's learning/life
RM: I have had the pleasure of seeing more than one student move from preverbal communication (gesture and noises) to combinations of different words. I always enjoy seeing this transition from frustration to an easier and more efficient form of communication. I also enjoy seeing parents' responses to their child's increase in meaningful communication.
ACCELIFY: What has been your experience using Accelify's systems?
RM: I am an early adopter of most technology. When my county decided to use Accelify as our electronic documentation system I learned the system faster than some other therapists. Since then, I have acted as a mediator between our many therapist and this new computer based system. As my supervisor stated I, with another SLP, have helped make the process easier for a department of 75+ SLPs and 30+OTs and PTs. The change in documentation has been a monumental hurdle for our county. Our persistence and knowledge has helped our therapists reach a level of comfort with the system.
ACCELIFY: What is one problem you experienced in your position that Accelify helped you solve?
RM: Accelify has made it easier for me to show my exact schedule to teachers and administrators! I was able to print a paper copy of my weekly schedule to provide to a teacher for scheduling services. Anything that makes scheduling easier is appreciated!
ACCELIFY:  What challenges have you encountered with Accelify's systems, and how have you overcome them?
RM: I have learned to roll with the system updates. For the most part, the system changes since 2013 have been a great help to our success and efficiency.
ACCELIFY: How have Accelify's systems helped you do your job better?
RM: Accelify's electronic documentation has increased my attention to quantifiable student progress. I love the ability to print off an organized list of all documented student services for IEP meetings. The student services report also makes writing a present level of performance fast and easy.
ACCELIFY: Do you believe Accelify has had a positive impact on students?
RM: Our county's decision to use Accelify and seek Medicaid reimbursement for services has created opportunities for our staff members and students to have access to materials and professional development opportunities.
---