Featured Educator: Candace Delpino
May 25, 2016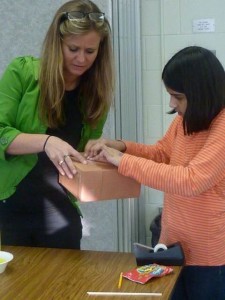 Name: Candace Delpino, Ed.S, CCC-SLP
Position: Specialist for Speech and Language Programs / Interim Medicaid Coordinator
School/District: Norfolk Public Schools
# of Years Using Accelify: 3 years

" If service providers do not have to worry about the technical inadequacies of a Medicaid billing system, then they are able to spend more time devoted to teaching and learning."
---
As a long-time educator (12 years) who hails from a family of teachers, Candace Delpino cares deeply about students, and understands the important role educators play in their success. She sees job satisfaction and teachers' ability to do their jobs effectively via tools and technology as an important part of this success. As the Interim Medicaid Coordinator at Norfolk Public Schools in Virginia, Candace has seen first hand how effective technology can empower school districts and educators and ultimately contribute to student success.
This month we had a chance to talk to Candace about her career in education and about how she has seen Norfolk Public Schools improve their special education program using Accelify's systems.
Q&A with Featured Educator, Candace Delpino
Accelify: What made you want to go into special education?
Candace Delpino (CD):  Ever since I was a little girl, I always wanted to be a teacher. My grandparents, who are the most formative role models in my life, were both teachers in Norfolk Public Schools for over 30 years before retiring. After graduating from high school, I attended Old Dominion University with the intention of majoring in early childhood education. By fluke, or as I say fate, I took an elective course entitled Language Development. This course was part of the Speech-Language Pathology program at ODU. At the time, I was not even aware that speech-language pathology was a field of study and more importantly that they worked in the school systems. It was during that semester, that I grew a deeper understanding of people with disabilities and a passion to help them be productive citizens within their community. That is when I realized my calling and how I was to begin my path in education.
Accelify: What do you love most about being an educator?
CD: Educators, no matter your role or title, have a multi-faceted role in the teaching and learning process. During my tenure with Norfolk Public Schools, I have been afforded the opportunity to expand my specific area of expertise both as a contributor and member of a variety of multi-disciplinary leadership teams. This collective effort to continuously improve the teaching and learning process for the betterment of our society as a whole is what embraces my devotion and love for education.
Accelify: Describe a time you felt you were able to have an impact on a child's learning/life.
CD:  I would be remiss if I limited this to one circumstance and I am not by any means trying to give credit to myself. I think that teachers, parents, political figures, and all adults within a community often underestimate the influence they have on a child's life. Of course you feel humbled when you see a high school student you had in kindergarten in a local store and they remember you and thank you for helping them, recalling a specific moment or lesson, but the impact is much greater. We cannot forget the indirect impacts we have on the lives of children through our collaboration with other educators, families, and community members. We must advocate and be active agents for our future generation.
Accelify: What has been your experience working with Accelify?
CD:  Norfolk Public Schools has used Accelify for as our Medicaid billing system for three years now. When I first began my career, we completed all of our Medicaid billing on paper. We utilized one other online billing company prior to our contract with Accelify. I must say that Accelify is always ahead of the curve. Their staff is personable and strives to build relationships. We are a larger school district in Virginia and it amazes me that when I send a provider inquiry, they know exactly to whom I am referring. A representative is always available and willing to assist. Not only do they make every effort to improve their system based on experience or feedback, but their ultimate goal is to help our district maximize our Medicaid cost-based reimbursement.
Accelify: What is one problem you encountered in your position that Accelify helped you solve?
CD:  Well one problem in which Accelify helped with would be an understatement, as they are available every day to listen to concerns, brainstorm solutions, and correct any user errors. Again, I cannot stress enough their collaborative effort and overall support of our district's Medicaid claiming. One specific instance, that should not go unnoticed, is their sustenance in our transportation billing. Accelify stepped right up to the plate in assisting our district in the completion of cost report requirements for transportation billing. This is an enormous task, especially in a larger school district. As they often do, they worked directly with their IT department to develop the queries/reports we needed to complete this task that we previously had to do by hand.
Accelify: What challenges have you encountered with Accelify's systems, and how have you overcome them?
CD:  Any challenges, whether access concerns, training of new employees, or user/district preferences, Accelify is always readily available to address or discuss a solution. There is no prominent issue or challenge that has gone unaddressed.
Accelify: How is Accelify different than other vendors/systems you've worked with?
CD: Accelify has played an active role in the advancement of our district. There is no request too small or large that they do not endure. They listen to all of our concerns and preferences, in attempt to make the providers' and administrators' jobs easier and more effective. Not only have they come in to town numerous times, to provide trainings and refresher sessions, but they are readily available through their support line and even offer conference calls/webinars to individual providers as needed.
Accelify: How has Accelify made your job easier or helped you do your job better?
CD: Accelify works with us day to day on addressing user errors, monitoring compliance, and enhancing our Medicaid billing procedures. They strive to maximize our cost-based Medicaid reimbursement potential, resulting in a variable rise from year to year.
Accelify: Do you believe the Accelify's systems have a positive impact on students? If so, please explain.
CD:  It Takes a Village to Raise a Child. This saying represents advocacy for a society that meets ALL of the needs of each individual child. While Accelify does not have a direct impact on students per say, the indirect impacts are grand. Their constant effort to always make improvements, creating a user friendly system based on formative feedback is one of their greatest strengths and it benefits students. If service providers do not have to worry about the technical inadequacies of a Medicaid billing system, then they are able to spend more time devoted to teaching and learning. They are less frustrated and have greater job satisfaction, resulting in higher quality teaching, ultimately improving student outcomes and achievement.