Featured Educator: Carrie Modica
June 29, 2016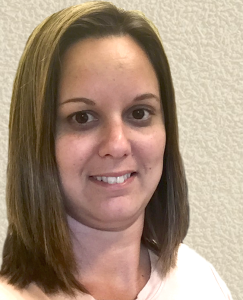 Name: Carrie Modica
Position: Medicaid Clerk
School/District: St. Tammany Parish School Board
# of Years Using Accelify: 1 year
"Accelify is completely different than our previous vendor. This is the first vendor I have worked with that allows us to do much more than simply Medicaid billing"
This month's featured educator, Carrie Modica always knew she wanted to work in the school system in some capacity. She is passionate about education and about supporting children in reaching their full potential. While as the Medicaid Clerk for St. Tammany Parish School Board in Louisiana, Carrie doesn't work directly with students, knowing that she plays an integral role in supporting educators in providing students with the services they need to learn gives her great satisfaction and fulfillment in her work.
In addition to the role she plays in supporting educators and impacting student success, she loves the ever-changing and fast-paced nature of her job: she works with a wide variety of people within the educational system, from teachers and providers to school and district level administrators. "I get to work with so many people who love what they do and see them at their best," Carrie explained.
Carrie has found working with Accelify incredibly valuable to the work that she does on a daily basis, as well as that of her colleagues, both providers and administrators. As someone who works behind the scenes in special education, Carrie understands that the technology used for Medicaid service documentation and billing is a key component of any special education program. Working with a company like Accelify, which not only provides technology, but also supports the district in understanding state requirements and the complexities of Medicaid billing has been invaluable to the district. "The system puts in place every mechanism to ensure we are billing (or not billing) correctly," said Carrie. "Accelify has helped us ensure we are billing for every service we can and providing us with advice on how we can increase reimbursement while remaining compliant."
Having worked as a Medicaid Clerk for 8 years, Carrie has had experience with several other Medicaid vendors, and after only 1 year with Accelify, she has noticed a marked difference between the way Accelify and other Medicaid vendors approach Medicaid billing. "Accelify is completely different than our previous vendor. This is the first vendor I have worked with that allows us to do much more than simply Medicaid billing," she explained. "With Accelify we are able to document and plan all the moving pieces of the special education process using a single system, and it is such a huge benefit."
Because Accelify treats Medicaid billing as integral piece in a larger process, Accelify has helped St. Tammany solve many of the issues other vendors could not, thus increasing their Medicaid reimbursement. Using Accelify's exception reports, for example, the district was able to identify that one of the biggest barriers to reimbursement was missing parental consent forms for students receiving Medicaid eligible services. They were then able to use this information to narrow in on specific students and focus on acquiring consent to maximize their reimbursement.
And while the fiscal benefits of using Accelify's system have been tremendous, Carrie believes that providers and students are the one's who have benefitted the most.  "The greatest benefits come from turning Medicaid billing into a back end process for the providers. With Accelify, our therapists don't have to worry about Medicaid billing. They can simply document their services, and Accelify does the rest. We get the reimbursement for all their eligible services." In this regard, Carrie is confident that Accelify is also having a positive impact on students. "If therapists can focus on their students, and not worry about Medicaid billing, they can provide more effective services to students," she said.