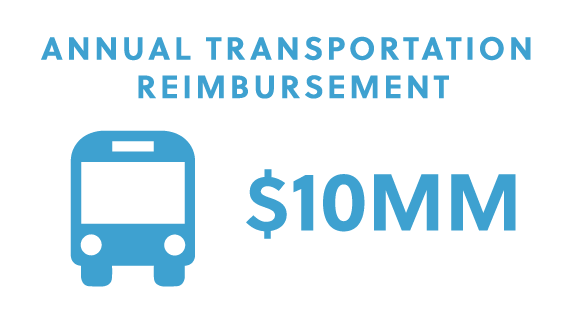 Client Profile
ADA: 75,000
IEP Students: 8,100
Overview
Our client is a state education agency that is responsible for providing transportation services to public and charter school students in the state. These services are eligible for Medicaid reimbursement when they are provided to IEP students who receive health services on the same day—and those health services have been reimbursed. However, because the school district and the individual charter schools are responsible for providing and claiming for health services, our client had difficulty navigating data privacy issues and integrating the required data from public and charter schools to match claimed health services to transportation services in order to accurately identify transportation services eligible for reimbursement.
Solution
To implement transportation claiming for our client, Accelify developed a customized version of AcceliROUTE. The AcceliROUTE system was set up to import our client's transportation ridership data and other claiming validation data including transportation IEP authorization, paid health service claim data, and student information. The system uses this data to automate the process of matching transportation services to claimed health services to identify those that are eligible for Medicaid reimbursement. This complex validation process occurs prior to claim submission, ensuring only eligible trips are submitted, reducing denial rates and eliminating the very tedious process of manually matching trips to paid service claims.
Results
Accelify's work has allowed our client to tap into a significant source of revenue that was not possible prior to implementing AcceliROUTE. Utilizing the system, our client was able to recoup a total of $2.5mm in transportation claims in year one, which included $1.4mm in retroactive transportation claims that would have otherwise been lost. Our client now claims an average of $10mm in annual transportation Medicaid claims and has expanded the program to claim for transportation services provided to non-public school students.